TOMLOV LCD Digital Microscope 1300X Soldering Microscope for Adults & 10 Stand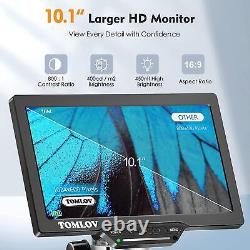 TOMLOV DM202 10.1'' HDMI LCD Digital Microscope, 10 Stand Included, 16MP Coin Microscope with Screen for Adults, Micro Soldering Microscope, TV/Windows/Mac Compatible, 32GB Card Included. 2022 New Upgrade 1- Larger 10.1 Monitor? Utilizing 10.1'' angle-adjustable LCD screen, Tomlov digital microscope DM202 offers 31% larger view than 7 inch microscope, allows you to work quickly and effectively at the microscopic level. This digital microscope with screen is great for electronics repairing, collection checking and coins observing. 2022 New Upgrade 2 - Taller 10 Stand, See Entire Coins Easily?
Updated from the Tomlov DM201 microscope, this new hdmi microscope comes with a longer 10 stand pillar, So the max distance between lens and base extends up to 6.3 inch (double distance comparing with other models). Without installing any extension tube or raising the monitor, the entire coin (dime, penny, nickel, quarter, dollar, even the large silver dollar) can be captured in the monitor easily. Amazing Images on Lager HDMI/PC Screen? The Tomlov HDMI LCD digital microscope DM202 supports Any Size HDMI Monitor- in the Lab, Factory, Classroom, or Home.
Or On a Computer Using the Camera App Already Installed on Windows 10 / Photo Booth for iMac / MacBook- It's plug and play! With wide zoom from 3X-1300X, delivering amazing visual experience on exploring the micro world, Tomlov DM202 provides a wide range to see the incredible details of observations. Superior Industrial Quality Standard HD Camera??? Thanks to the HD camera and large dynamic range, this video microscope captures twice clearer and sharper images and videos than other 2MP microscope cameras, fine details and true-to-life colors are given on this digital microscope with screen. Differing from others, the TOMLOV coin microscope features specially designed touch control LED fill lights.
Simply turn on/off or adjust the LED brightness by sliding the touch bar. Super Easy to Setup and Focus? Setup is as easy as 1 2 3. Power on the LCD microscope, adjust the distance between lens and objects, rotate the focus controller, then you can view the specimens on the 10.1 inch screen clearly.
2022 Newest Model Tomlov DM202 ----Upgraded from Tomlov DM201 Digital Microscope! Are you frustrated by frequently seeing the partial coin in the digital microscope?
Are you looking for a microscope with larger working space? Tomlv DM202 HDMI Digital Microscope is your best choice to estate you need! Tomlov DM202 Microscope Solve the Problem of the Small Screen - Upgraded Bigger 10.1 monitor, shows Real pics on your eyes. Upgraded Stand- Re-design it to a taller 10" Post, brings higher vision and large work space, solve the short 6" post problem. Upgraded Screw Adjustment - This ergonomic design-Updated 2 bigger Screws-helps adjusting and focus easily to achieve your desired result. More Connectivity Choice -Equipped with Mini HDMI and USB ports, Tomlov DM202 Digital microscope is compatible with window, Mac, HDMI TV and projector, allows you to plug and play in second. What's the Features and Benefits of Tomlov DM202 LCD Digital Microscope? 10.1 Larger Scale Display for Better View. Working with 16MP ultra precise focusing camera and HD 1080P imaging, this 10.1 LCD microscope creates a broader view range, high quality images and videos and brings incredible micro world observing experience. The rotatable(90 degrees) screen design improves ergonomics and eliminates eye and neck strain, it is big enough for soldering circuits, grading coins. Taller 10 Post for Higher Vision. Updated 1: Unlike most LCD microscope with 6" bracket, Tomlov DM202 has longer 10" post for higher vision and wider working space. Updated 2: With the two upgraded bigger screws, raise or lower the zoom of your microscope precisely and smoothly.
Wide 3X-1300X Zoom to View Details. From tiniest detail to an overview, the optics ensures magnification of up to 1300X (actual magnification differs due to the screen size, the distance between camera and objectives). The wide zoom range enables the user to work very efficiently at variable magnifications. Advanced Image Effects to Display.
Multiple professional image effects below can be displayed. The Tomlov DM201 settings are also customizable via an IR wireless remote control. Functions such as capture / review images can be selected by a simple push of the button. Use the remote control to reduce camera shake and take clearer photos and videos.
Ergonomic Design, Work in Complete Comfort. The Tomlov DM202 HDMI soldering microscope is inherently ergo-friendly! The monitor and stand can be quickly and easily adjusted, which can not only provide a good workable area between the soldering iron and the lens but reduce work-related injuries due to uncomfortable working conditions. 4MP Lens, See Twice Clearer than 1080P. Equipped with 4MP QHD glass optics, this microscope camera captures twice clearer and sharper images and videos than normal 1080P microscope. Coming with a UV filter, a protective cover and one light shade, the DM202 digital microscope effectively reduces glare on reflective samples and protects the lens from being dirty when doing soldering work. Versatile 6 LED + 2 Side Lights. Various light sources help you to see what you need to see. 6 main LED lights illuminate homogeneously and brightly while two gooseneck lights help to reduce reflections on shiny workpieces and thus makes work less tiring for your eyes. Smart Touch Control Light Brightness. The advanced design lets you fully in control of the brightness to easily, which simplifies operation and view the microscopic world with proper lighting. TOMLOV 10.1'' HDMI Microscope with Touch Control. TOMLOV 7'' HDMI Microscope with Touch Control. TOMLOV 7 LCD Digital Microscope. TOMLOV DM4 4.3'' Digital Microscope. What's in the box.
TOMLOV DM202 10.1 HDMI Digital Microscope x 1. 10 Enhanced Stand x 1.
Aluminum Base with Side Lights x 1.