TOMLOV Digital Microscope 10.1 USB Coin Microscope 16MP For Electronic Repair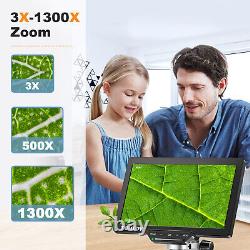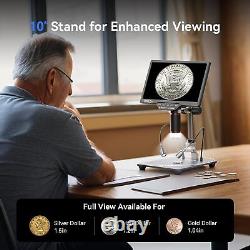 TOMLOV DM202 Digital Microscope, 10.1 Inch Coin Microscope Full View, 16MP HDMI LCD Digital Microscope with Screen, Electronics Repair Soldering Microscope for Adults, TV/Windows/Mac Compatible, 32GB. 2022 New Upgrade 1- Larger 10.1 Monitor?
Utilizing 10.1'' angle-adjustable LCD screen, Tomlov digital microscope DM202 offers 31% larger view than 7 inch microscope, allows you to work quickly and effectively at the microscopic level. This digital microscope with screen is great for electronics repairing, collection checking and coins observing. 2022 New Upgrade 2 - Taller 10 Stand, See Entire Coins Easily? Updated from the Tomlov DM201 microscope, this new hdmi microscope comes with a longer 10 stand pillar, So the max distance between lens and base extends up to 6.3 inch (double distance comparing with other models). Without installing any extension tube or raising the monitor, the entire coin (dime, penny, nickel, quarter, dollar, even the large silver dollar) can be captured in the monitor easily.
Amazing Images on Lager HDMI/PC Screen? The Tomlov HDMI LCD digital microscope DM202 supports Any Size HDMI Monitor- in the Lab, Factory, Classroom, or Home. Or On a Computer Using the Camera App Already Installed on Windows 10 / Photo Booth for iMac / MacBook- It's plug and play! With wide zoom from 3X-1300X, delivering amazing visual experience on exploring the micro world, Tomlov DM202 provides a wide range to see the incredible details of observations. Superior Industrial Quality Standard HD Camera???
Thanks to the HD camera and large dynamic range, this video microscope captures twice clearer and sharper images and videos than other 2MP microscope cameras, fine details and true-to-life colors are given on this digital microscope with screen. Differing from others, the TOMLOV coin microscope features specially designed touch control LED fill lights. Simply turn on/off or adjust the LED brightness by sliding the touch bar. Super Easy to Setup and Focus? Setup is as easy as 1 2 3. Power on the LCD microscope, adjust the distance between lens and objects, rotate the focus controller, then you can view the specimens on the 10.1 inch screen clearly. See More, See Clearly with Upgraded Lens!
Unveil hidden details and unlock a world of exploration with the DM202 Digital Microscope! See the Unseen with Sony Lens Clarity - TOMLOV DM202 Microscopic Marvels! Ideal for coin collectors, repair technicians, Jewelry identification, STEM education. See More, Explore More: Digital Microscope HDMI/USB Output for Expansive Views!
Explore, Learn & Wonder - TOMLOV DM202 Digital Microscope for Child Education! Choose Your Digital Microscope with Screen.
10.1 inch IPS Display. 10.1 inch HD IPS Display. 7 inch HD IPS Display. What's in the box.
TOMLOV DM202 10.1 HDMI Digital Microscope x 1. 10 Enhanced Stand x 1.
Aluminum Base with Side Lights x 1.