OMAX 9MP Digital Phase Contrast Laboratory Live Blood Microscope 1600X Reversed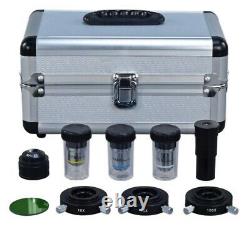 9.0MP digital imaging system showing & capturing true color videos and images on computer. Phase contrast microscope for observing live cell cycle. 2 sets of objectives: 4 DIN achromatic objectives for brightfield microscope and 3 achromatic phase contrast objectives.
One NA1.25 phase contrast condenser with three (10X, 40X, and 100X) condenser annular plates. Siedentopf trinocular viewing head and sturdy metal framework. This microscope provides phase contrast & brightfield microscope system and USB digital imaging system. A complete set of phase contrast kit can be flexibly equipped with ordinary biological microscope to be a phase contrast microscope system.
The phase contrast laboratory microscope can improve the images of transparent and colorless objects, which are hard to see or invisible in an ordinary microscope. The compound Siedentopf trinocular microscope comes with trinocular viewing head, body frame, quadruple reversed nosepiece, four DIN achromatic objectives, large double layer mechanical stage, variable intensity halogen transmitted illumination system, a set of phase contrast kit and a 9.0MP USB digital camera. It offers eight levels of brightfield magnification 40X-1600X. The phase contrast kit includes a phase contrast NA1.25 condenser, a centering telescopic eyepiece, three achromatic phase contrast objectives with phase plate: 10X, 40X, 100X. The phase contrast biological microscope offers six levels of magnification power: 100X-160X-400X-640X-1000X-1600X.
The 3488x2616 pixels USB digital imaging system that captures microscope images and live video on computer. The included software compatible with Windows can be used to make measurements. The phase contrast compound microscopy is perfect for clinical, university or institutional uses. Total magnification for brightfield: 40X-64X-100X-160X-400X-640X-1000X-1600X.
Total magnification for phase contrast: 100X-160X-400X-640X-1000X-1600X. Eyepieces: widefield WF10X/18 and P16X. Brightfield objectives: DIN achromatic 4X (0.1), 10X (0.25), 40X (0.65, spring), 100X (1.25, spring, oil).
Phase contrast objectives (in phase contrast kit): achromatic PH10X, PH40X (spring), PH100X (oil, spring). Viewing head: trinocular Siedentopf 30°Inclined 360°rotatable. Interpupillary distance: adjustment 2-3/16" 2-15/16" (55mm 75mm). Diopter: adjustable on left ocular-tube. Nosepiece: reversed revolving quadruple nosepiece.
A lever to switch between beam spilt for photo part and 100% to eyepieces when camera is not in use. Stage: double layer X-Y mechanical stage with scales, size 5-1/2" x 4-1/4" (140mm x 110mm), translation range 3" x 2" (78mm x 52mm). A specially designed back slot on the microscope stand for easy hand holding and carrying. Illumination: transmitted, 6V/20W halogen lamp, variable intensity. Focus: coaxial coarse and fine focus knobs on both sides with tension control.
Stage upward stopper to protect objectives and slides. Condenser: Abbe condenser NA1.25 with iris diaphragm & filter holder, rack & pinion adjustment.
Phase contrast condenser: NA1.25 (37mm mounting size) condenser, one centering telescopic eyepiece with three separated condenser annular plates for 10X, 40X, and 100X, each can be centered individually. Digital camera: - true color 3488 x 2616 pixels (9.0MP) - 0.45X reduction lens to get larger field of view - Software compatible with Windows, Mac OS X, and Linux (see below for version information) - Capturing microscope images, recording live video, measuring lengths, angles, areas, editing image s - USB cable included. Dimension of microscope: 14-1/8" x 9-1/8" x 16-1/2 (36cm x 23cm x 42cm). Dimension of phase contrast kit: 8-1/4 " x 5-7/8" x 5-3/4 (21 cm x 15 cm x 14.5 cm). Please check the chart below for computer operating system compatibility. Trinocular microscope Siedentopf viewing head. 4 DIN achromatic objectives: 4X, 10X, 40X, 100X.
A pair of eyepieces WF10X/18. A pair of eyepieces P16X. 2 color filters: green and blue. 1 bottle of immersion oil.
Power cord (US and Canada standard). 3 phase contrast objectives: achromatic PH10X, PH40X, PH100X.
3 separated phase contrast plates for 10X, 40X and 100X light passing. 1 NA1.25 phase contrast condenser. 1 aluminum phase contrast storage box. 1 CD (camera driver, software and user's instruction). The item "OMAX 9MP Digital Phase Contrast Laboratory Live Blood Microscope 1600X Reversed" is in sale since Monday, August 8, 2016.
This item is in the category "Business & Industrial\Healthcare, Lab & Dental\Medical & Lab Equipment, Devices\Microscopes". The seller is "omax_microscopes" and is located in Irvine, California. This item can be shipped worldwide.
Brand: OMAX
MPN: M834-PHD-C90
Model: M834-PHD-C90
Viewer: Trinocular
Magnification Range: 40X-1600X
Camera Resolution: 9MP
Microscope Type: Phrase Contrast Microscope