OMAX 40X-2500X 14MP Digital EPI-Fluorescence Trinocular Biological Microscope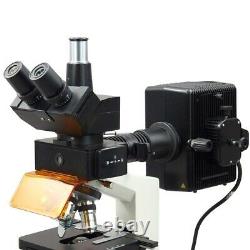 Transmitted brightfield and epi-fluorescence illumination with blue and green exciting light filters. Trinocular compensation free viewing head, easy to mount digital camera to catch ordinary and high contrast fluorescent images. 4 high quality fluorescence objectives: FLUOR 4x, 10x, 40x(S), 100x(S, Oil). Large stain-resistant double layer stage can hold two slides in parallel.
14MP USB digital camera includes software compatible with Windows, Mac OS X, and Linux. This is a brand new professional EPI-fluorescent trinocular compound microscope that offers quality performance and advanced features. It comes equipped with four high quality fluorescence objectives, an EPI-fluorescent assembly, a 100W HBO power supply for mercury lamp, a 14MP USB digital microscope camera (CMOS), and double-layer mechanical stage.
The microscope can also be used in standard brightfield operation without necessitating the teardown of the microscope. It is an ideal instrument for advanced research in biology, cytology, oncology, hematology, genetics, immunology, microchemistry and environmental protection. The digital camera captures still microscope images, streams live video preview to your computer, and is compatible with Windows, Mac OS X, and Linux (see below for version information). The 0.5X reduction lens included gives your computer screen a wider field of view. The user-friendly software for Windows offers advanced features including Stitching, EDF (Extended Depth of Focus), video recording, and measurement functions.
Live video and still image capture can be set in different resolutions simultaneously. Magnifications: 40x, 64x, 100x, 160x, 250x, 400x, 640x, 1000x, 1600x, 2500x.
Microscope Head: - Trinocular viewing head: anti-mould, 45°Inclined 360° swiveling, compensation free - Sliding interpupillary adjustment, range 2-3/16" - 3.0" (55 mm-75 mm) - Nosepiece: revolving, quadruple - Adjustable diopter ring on both ocular tubes - Photo tube: Inner diameter 23.2mm, height adjustment range: 3/4 (18 mm). Eyepieces - 3 pairs of eyepieces: WF10X (18 mm field of view), P16X, WF25X. Objectives: high quality fluorescence objectives - FLUOR 4x (0.1 NA) - FLUOR 10x (0.25 NA), - FLUOR 40x (0.65 NA, Spring), - FLUOR 100x (1.25 NA, Spring, Oil). EPI-Fluorescent illumination: - Power supply: 100W, AC 100-240V with digital displays for Life Time h.
M and Current (A) - 100 W HBO ultra Hi-pressure spherical Mercury bulb, center adjustable in lighthouse - Built-in condenser, position adjustable - Fluorescence blue and green filter cubes in a sliding assembly - Epi-Fluorescence light path control: block/open - Three-position sliding filter assembly: blue filter, green filter, and transmitted brightfield illumination - Blue exciting filter: 410 - 490 nm, barrier (emission) filter: 515 nm - Green exciting filter: 490 - 540 nm, barrier (emission) filter: 590 nm - Protection barrier suppression filter or front light baffle to resist the ultraviolet light - Fluorescence free immersion oil. Transmitted illumination: - Power supply: 100V240V 50/60Hz worldwide range (US and Canada plug) - 6V/20W halogen bulb - Intensity adjustable. Condenser: - NA1.25 Abbe condenser - Built-in iris aperture diaphragm - Built-in swing-out filter holder - Rack and pinion adjustment. Focusing: - Coaxial coarse and fine focus knobs on both sides - Tension adjustable - Focusing stroke: 1-3/16 (30mm) - Division of fine focusing: 0.002 mm. Stages - Mechanical double layer stage - Stain resistance - Large size, can hold two slides - Dimensions: 5-1/2" x 5-1/2" (140 mm x 140 mm) - Traveling range (X-Y stroke): 3" x 2" (75mm x 50mm) - Stage upward moving lock protects objectives and slides. Digital camera : - true color 4096x3288 pixels (14M pixels) - 0.5X reduction lens to get larger field of view - 0.01 mm calibration slide: 1mm/100 division - Frame speed: 1.8fps at 4096x3288, 10fps at 2048x1644, 27fps at 1024x822 - Software compatible with Windows, Mac OS X and Linux operating systems - Capturing microscope images, recording live video, measuring lengths, angles, areas, editing images - USB 2.0 cable included. Dimension: 11" x7-1/2" x 17 (28 cm x 19 cm x 43 cm). Please check the chart below for computer operating system compatibility. A pair of WF10X, a pair of P16X, a pair of WF25X. Power cord (US and Canada standard). One complete set of fluorescent kit, including: - Epi-Fluorescence illuminator; - 4 fluor objectives: 4x, 10x, 40x, 100x; - Power supply; - Power cord; - Mercury bulbs; - Protection barrier; - Fluorescence free oil; - Extra fuses.
1 CD including driver, software and user's instruction. 0.01mm calibration slide (stage micrometer). Ultra-violet and violet excitation filter systems (Ultra Violet exciting filter: 330 nm - 385 nm for observation of auto-fluorescence materials or bacteria with FITC staining; Violet exciting filter: 400 nm - 410 nm for detection Catecholamine, 5-HT or DNA research under Quinacrine Mustard or Teracycline staining). The item "OMAX 40X-2500X 14MP Digital EPI-Fluorescence Trinocular Biological Microscope" is in sale since Friday, April 7, 2017.
This item is in the category "Business & Industrial\Healthcare, Lab & Dental\Medical & Lab Equipment, Devices\Microscopes". The seller is "omax_microscopes" and is located in Irvine, California. This item can be shipped worldwide.
Brand: OMAX
MPN: M837ZFLR-C140U
Model: M837ZFLR-C140U
Viewer: Trinocular
Magnification Range: 40X-2500X
Camera Resolution: 14MP
Microscope Type: Fluorescence Microscope