Microscope Video Photo Camera 1080P HDMI USB Imaging Industrial Magnify C-mount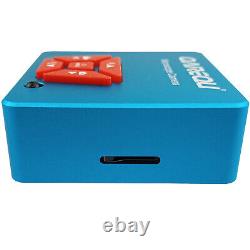 Microscope Video Photo Camera 1080P HDMI USB Imaging Industrial Magnify C-mount. The C60 is a digital microscope camera with 1080P 60fps HDMI output. It can take photo up to 60MP (4:3) and record video up to 2K 30fps. The USB port allows connection to computer that works with third party software like OBS. Photo taking and video recording requires MicroSD memory card which is not included.
HDMI cable and USB cable are not included. Monitor resolution must support 1920 x 1080, otherwise you cannot see full size video. Either HDMI or USB (for PC connection) can be used under working condition. 1 x Remote control (not include battery). Standalone operation, directly connect to large monitor via HDMI cable.
5 buttons on camera for menu setup, photo taking, video recoding, digital zoom (max 7x). C-mount fit for all video lens with same standard. Aluminum body, keep low temperature after long working hours.
Widely used in industrial area like CNC quality check, Jewelry inspection, PCB repair, Watch repair... Sensor Optical Format: 1/2.33. Video Output Resolution (HDMI): 1920 x 1080. Video Capture Resolution: 2K 30fps, 1080P 60fps. Photo Capture Resolution: Max 60MP (4:3), 40MP (16:9).
Storage Media: Micro SD card (max 64GB). Size: 64 x 64 x 35mm (2.5 x 2.5 x 1.4 inch). Weight: 150g (0.33 lb). We do not provide pick-up service.
More info about VAT can be found here. We are a team of enthusiastic computer DIYer, love to build PC but have different problem same as yours. Heart is pain if missing a cable when installing a drive, or you need HDD case for M key SSD, but you bought B key. DIRECT is a channel for you to choose the right parts, and smoothly assemble computer. Let's empower your PC today.