Elikliv HDMI 7 LCD 1300X Coin Digital Microscope 16MP Soldering Video fit TV/PC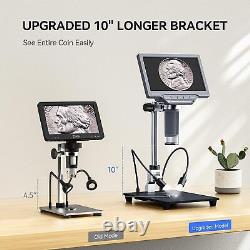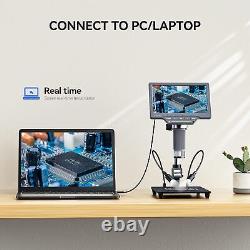 Elikliv EDM201 HDMI LCD Digital Microscope with 7'' Screen - 1300X Coin Microscope for Adult - 16MP Soldering Video Microscope with Touch Dimming. The Elikliv 2022 upgraded digital microscope is embedded with a large 16 MP backlit CMOS sensor, which greatly improves light sensitivity and noise control. 1300X magnification allows clear viewing of plant and animal specimens, electronics repairing, collection checking and coins observing. Extension Tube Included, See Entire Coins? Compared with other microscopes, this microscope for adults easily observes the entire coin.
We have increased the height of the stand and equipped it with extension tube fittings. It can obtain a wider and higher field of view.
HDMI/USB Output for Larger View? Elikliv HDMI microscope supports any TV or monitor with HDMI port - in the lab, factory, classroom or home. And you can connect it to the PC via a USB cable, and then just run the "camera" in Win10 or the "photo booth" in iMac/MacBook.
7 Inch Rotatable LCD Monitor? Featuring 1080P high resolution, 16MP camera technology and precise focus, Elikliv LCD digital microscope supports display amazing images and videos. With rotatable (90 degrees) HD screen design, it is more convenient for user from different angle to view it.
Allow to zoom in and see the incredible details of observations at a magnification range from 10X to 1300X. Elikliv video microscope also can take pictures and record videos. You can save the images and videos that obtained during the observation process to the Micro card and output. The HDMI microscope adopts a specially designed touch LED fill light.
Just slide the touch bar to turn on/off or adjust the LED brightness. Smart IR remote control let zoom pictures smoothly. Made of aluminum alloy base, stand and bracket, this LCD microscope can provide long-term use, and allows doing micro soldering or repairing printed circuit board. Wide Application, Perfect for Adults and kids Gift?
This digital microscope is very suitable for circuit board testing, watch/clock repair, textile industry, error coin identification, kids education testing, biological observation (not suitable for cells), researchers, insects, jewelry, stamps, plants, QC inspection, it is the popular and meaningful gift for children, students, hobbyists. Newest HDMI 16MP Microscope Elikliv DM201 -Upgraded Model from Elikliv DM9 Digital Microscope.
Are you constantly annoyed by not seeing the entire coin? Are you looking for a microscope with a larger working space? Elikliv DM201 HDMI digital microscope can fully meet your needs! More Details About Elikliv Newest Microscope. Upgraded Sensor: 16MP Camera Sensor.
LCD Screen: 7 Inch HD Screen. Support Hdmi+Usb(Uvc) Output Display. Compatible with a tripod, more versatile.
Support System: Windows 7/8/10 and Mac OS 10.13 and above/HDMI. Extension tube included, increases the height of the bracket. FHD 1080P display, 7-inch large screen and 16MP high-precision camera sensor. Give you a clear visual experience. Support HD photo and video recording functions, can record every moment that surprises you. Save the images and videos to the Micro card and output. Improved touch controls let you easily adjust the brightness. Solve the problem of screen shaking caused by operation! 10-1300X magnification, will not let you miss any details. Equipped with an extension tube, it can increase the height of the stand.
Obtain a wider and higher field of coins. The rotatable(90 degrees) screen design improves ergonomics and eliminates eye and neck strain. Metal stand that can be moved up and down for greater visibility. The IR remote control can take photos, videos, zoom in and zoom out.
Easy control without pressing the video microscope button, perfect to avoid screen shake. 1X HDMI Cable 2X USB Cable.
1X Anti-glare Hood 1X User Manual. 1X 32GB Micro SD Card. Elikliv 10.1 Large Microscope. Elikliv 4.3'' Digital Microscope. Elikliv 10.1 Upgraded HDMI Microscope.
10.1 FHD LCD Display. 4.3 HD LCD Display.
HDMI/USB Output for Larger View, See Entire Coins. Easy-To-Use, Save time and effort with stand-alone operation. Large Screen, See Entire Coin. Dual Lenses For Versatile Uses.
16MP HDMI LCD Digital Microscope. What's in the box. 1X Elikliv HDMI Digital Microscope.