Auto Focal Focus 1080P 60FPS HDMI WiFi Digital Industrial Microscope Camera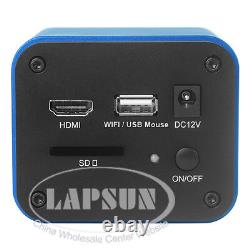 XFCAM1080PHB/PHD Microscope Camera is a multiple interfaces (HDMI+WiFi+SD card, so X here means multiple interfaces) CMOS camera with autofocus function(F means Auto Focus) and it adopts ultra-high performance Sony CMOS sensor as the image-picking device. HDMI+WiFi are used as the data transfer interface to HDMI display or computer.
For HDMI output, The XCamView will be loaded and a camera control panel and toolbar are overlaid on the HDMI screen, in this case, the USB mouse can be used to set the camera, browse and compare the captured image, play the video ital. For WiFi output, unplug the mouse and plug in the USB WiFi adapter, connect the computer WiFi to the camera, then the videostream can be transfer to computer with the advanced software RisingView. With RisingView, you can control the camera, process the image as RisingTech's other USB series camera. Scientific research, education (teaching, demonstration and academic exchanges). Industrial visual (PCB examination, IC quality control).
Food (microbial colony observation and counting). Aerospace, military (high sophisticated weapons). All in 1(HDMI+WiFi) C mount Microscope camera with Sony high sensitivity CMOS sensor; HDMI and Wifi output. Manual / Auto Focus Function. For HDMI application, with built-in multiple-language XCamView software. The camera characteristic can be controlled by XCamView through the USB mouse. The other basic processing and control can also be realized by the XCamView.
1920 × 1080 (1080P) resolutions to match the current high-definition displayer on the market; Support plug and play application. For HDMI application, 2.0MP or 5.0MP resolution image(19201080 XFCAM1080PHD, 25921944XCAM1080PHB) can be captured and saved for browsing; For video, 1080P video stream(asf format) can be captured and saved. With the USB WiFi adapter, the XFCAM1080PHB/PHD can be used as WiFi camera, the RisingView advanced image processing software is used to display the video and capture image. Support plug and play application.
Ultra-Fine Color Engine with perfect color reproduction capability(WiFi). With advanced video & image processing application RisingView, which including professional image processing such as 2D measurement, HDR, image stitching, EDF(Extended Depth of Focus), image segmentation & count, image stacking, color composite and denoising(USB). XFCAM1080PHB/PHD can meet various applications and can be widely used in industrial inspection, education and research, materials analysis, precision measurement, medical analyses e. 1/1.8(6.22x4.67). 1/1.9(7.20x4.05).
Difference between XFCAM1080PHB and XFCAM1080PHD. (1) 1080PHB capture photo resolution is 5.0MP, 1080PHD capture photo resolution is 2.0mp. (2) 1080PHB sensitivity 425mv, 1080PHD has higher sensitivity 1120mv, 1080PHD is better for Low lighting use.
(3) 1080PHB imx178 sensor size 1/1.8", 1080PHD imx185 sensor size 1/1.9". Other Specification for HDMI Output. With USB Mouse to Operate on the embedded XCamView.
JPEG Format with 2M Resolution (1920x1080) in SD Card. ASF Format 1080P 30fps in SD Card. Including Exposure, Gain, White Balance, Color Adjustment, Sharpness and Denoising Control. Other Specification for WIFI Output. 802.11n 150Mbps; RF Power 20dBm(Maximum).
36(According to the Environment and Connection Distance). Standard SDK for Windows/Linux/Mac(WIFI). Still Picture or Movie (WIFI). Software Environment (for USB2.0 Connection).
Microsoft® Windows®XP/ Vista / 7 / 8 / 8.1(32 & 64 bit). CPU: Equal to Intel Core2 2.8GHz or Higher. USB Port:USB2.0 High-speed Port. XFCAM1080PHB/PHD Microscope camera has two output ways: HDMI and WIFI.
XFCAM1080PHB/PHD Microscope Camera provide AUTO FOCUS & Measuring Function under HDMI model. About the NEW SONY CMOS. XFCAM1080PHB install SONY sensor 1/1.8" IMX178, 5.0mp Capture Resolution XFCAM1080PHD install SONY sensor 1/1.9" IMX185, 2.0mp Capture Resolution. 1 Low noise and High Sensitivity.
As you can see from the above diagram, the Exmor sensor has 2 noise reduction process including analogue noise reduction and digital noise reduction while the traditional one has only analogue noise reduction. Even the smallest amount of signal noise can have a negative impact on a photo.
Noise is introduced into an image if defects are present in the silicon from which the pixel is made. By minimizing the occurrence of defects and contamination, and by shielding areas that are vulnerable to defects, Sony has decreased the amount of noise that may be possible in other sensors. Sony enhanced sensitivity of the CMOS sensor by modifying the transistor array and layout, and by making the photodiode as large as possible and creating a system that increases the accuracy of light that is guided to the photodiode. Back-illuminated, High Sensitivity and no CRA Related Defects ("Exmor R"). Sony further improved the capabilities of the CMOS sensor by developing a back-illuminated structure, with the aim of creating a camera capable of taking exceptional photographs even by candlelight.
"Exmor R" is approximately twice as sensitive as a conventional front-illuminated CMOS sensor and also features low noise. In a back-illuminated CMOS sensor, light is directed onto the silicon substrate from behind, allowing light to be used with a level of efficiency not possible with conventional front-illuminated pixel structures.
Photographers can now create smooth, high-quality images in low light settings, including night scenes. 1The CRA related problem (background not uniform) does not exist anymore. 3 Global Shutter (Some Sensors) 4 Good Continuity. 1 x Digital Camera (Option) (XFCAM1080PHB install SONY sensor 1/1.8" IMX178, 5.0mp Capture Resolution XFCAM1080PHD install SONY sensor 1/1.9" IMX185, 2.0mp Capture Resolution). 1 x mini WIFI Emitter.
1 x Power Adapter (EU / UK / AU Adapter for free). Firstly many thanks for visiting our shop. With our best regards to you! Wish your everything goes well! And our products have a good praise from all of our customers. We are developing high quality all the time. If you have ever used our products and are pleased with them, please be continued to support us. And if you have found something need to be developed, we shall highly appreciate if you can tell us or give our better advices. And if you have never used our products, maybe you can benefit from our shop. All our products are carefully chosen from various reputable manufacturers. Often times these same manufacturers make the branded versions of our products. Since we put a lot of emphasis on product quality, all of our products are carefully tested for quality assurance purposes (CE, UL Listed, RoHS, and/or ISO 9001/9002 certification) to ensure their superiority and safety Satisfaction and success are the most important measures showing our work performance.
Our deal strategy -- "Effective, Unity, Quality, Service, Perfect, Profession " set a good experience for all of our customers! Great Deals: We do our best to give our customers the best deals on all electronic accessories. We minimize our marketing costs in order to maximize our customer savings! Our customer service representatives are highly trained and dedicated to helping our customers have the very best experience when shopping with us.
International Buyers - Please Note. Your satisfaction is very important for us. If you have any problems, we are very glad to help you. The item "Auto Focal Focus 1080P 60FPS HDMI WiFi Digital Industrial Microscope Camera" is in sale since Monday, December 10, 2018.
This item is in the category "Business, Office & Industrial\Healthcare, Lab & Dental\Medical & Lab Equipment, Devices\Microscopes". The seller is "lapsun_gift" and is located in HongKong. This item can be shipped worldwide.
Microscope Type: Stereo Microscope
Country/Region of Manufacture: China
Unit Quantity: 1
Type: Microscope
Features: With Camera
Optical Microscope Type: C MOUNT
Optical/Digital: Digital
Eyepiece Style: No
Bundle Listing: No
MPN: Does Not Apply
Viewer: Monocular
Unit Type: Unit
Brand: LAPSUN