AmScope 50X-2000X Darkfield Polarizing Metallurgical Microscope + 3MP Digital Ca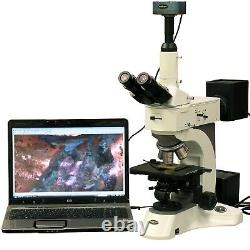 AmScope 50X-2000X Darkfield Polarizing Metallurgical Microscope + 3MP Digital Ca. Professional Infinitive Plan Achromatic optical system. Advanced seven magnification settings up to 2000X.
100W both EPI (top) and transmitted halogen illumination. Offering both brightfield and darkfield microscopy features.
Polarizer and analyzer included for polarizing microscopy. Seven infinitive Plan Achromatic objectives Included.
3MP USB 2.0 digital camera for photos and videos on Windows, Mac. Advanced editing & measuring software for Windows XP/Vista/7/8/10, limited software for Mac. This is an up-right reflected and transmitted polarizing darkfield metallurgical microscopy system.
The microscope comes with a quintuple nosepiece, seven infinitive Plan objectives, a built-in polarizer & analyzer, darkfield-viewing device, and both reflected (EPI) & transmitted illuminations. It offers seven metallurgical magnification settings (50X, 100X, 200X, 400X, 500X, 1000X & 2000X) and four more levels of transmitted magnification settings (400X, 800X, 1000X & 2000X). It is a great instrument for both metallurgical (reflected) and biological (transmitted) applications. The 3MP digital camera captures still images and video, and allows you to view a live stream on your PC. With software available for Windows, Mac, and Linux, it's a multi-platform imaging solution.
The included Windows software offers image-development and measurement tools, as well as advanced compositing features such as image-stitching and extended-depth-of-focus. Independent preview and capture resolutions allow you to view high-speed video while capturing high-definition images. For Mac, there is a lite version with limited processing features. This microscopy system is perfect for metallurgical labs and foundries for silicon wafer inspection, integrated circuit examination, production quality control, and R&D applications.
It is an ideal instrument for metallurgical, mineral and crystal identification. It is also a great microscopy system for transmitted illumination applications including those in biological areas. An advanced metallurgical microscopy system with reflected and transmitted illuminations. A great microscope for both reflected and transmitted applications.
Built-in polarization system with polarizer and analyzer. Built-in bright/dark viewing field system with conversion slide.
Quintuple nosepiece with three holes for bright field objectives and another two for darkfield. Seven infinitive Plan Achromatic objectives included. Eyepiece with 0.1mm micrometer and cross hair included. 100 Watt halogen reflected EPI-illumination system.
100 Watt halogen transmitted illumination system. Photo/video capability with 23mm universal/standard photo port.
Fully coated optical system with high resolution. 30 degree inclined 360 degree rotatable trinocular Siedentopf head. Seven levels of metallurgical magnification, 50X, 100X, 200X, 400X, 500X, 1000X & 2000X.
Four levels of transmitted (biological) magnification, 400X, 800X, 1000X & 2000X. Co-axial coarse & fine focusing system. Two sets of eyepiece included.
Large mechanical stage with stain resistant finish. Low position stage traveling controls.
Coaxial coarse and fine focusing. 30 degree inclined 360 degree rotatable trinocular head.
Adjustable diopters on both eye tubes. Solid metal frame construction with stain resistant enamel finish. Spare bulb, fuse, bottle of immersion oil, and dust cover included. Manufactured under ISO 9001 quality control standards. Head: 30 degree inclined trinocular.
Nosepiece: quintuple nosepiece - 3 holes for bright field objectives and 2 holes for dark field objectives. Objectives: infinitive Plan Achromatic objectives, 5X/0.12, 10X/0.25, 20X/0.40, 50X/0.75 & 100X/0.90, for metallurgical applications and infinitive Plan Achromatic objectives, 40X/0.65 & 100X/1.25, for biological applications. Polarization System: built-in polarizer and analyzer.
Bright/Dark Viewing Field System: built-in conversion slide for bright/dark field illumination. Diaphragm: Epi-illuminator with Iris aperture diaphragm and iris field diaphragm. Stage: double layer mechanical stage with size 185X142mm. Illumination Systems: 24V 100W T-H lamp for metallurgical applications (intensity adjustable, lamp centering adjustable) and built-in 24V 100W T-H lamp for biological applications (intensity adjustment). Collector: centering adjustable Kohler collector with field iris diaphragm.
Vertical Photo/Video Port: 23mm universal/standard photo tube (100%-0% or 20%-80%). Sensitivity: 1.0V/lux-sec (550 nm).
Compatibility: Windows (32/64 bit) XP/Vista/7/8/10, Mac OSX. One Trinocular Microscope Siedentopf Head. One Microscope Body with Frame, Stage, Base and EPI & Transmitted Illumination System. Five (EPI) Infinitive Plan Metallurgical Objectives, 5X (0.12), 10X (0.25), 20X (0.40), 50X (0.75) and 100X (0.90). Two (Transmitted) Infinitive Plan Achromatic Objectives, 40X (0.65) and 100X (1.25). One Pair of Extreme Widefield 10X Eyepieces. One Pair of Extreme Widefield 20X Eyepieces. One Extreme Widefield 10X Eyepiece with 0.1mm Micrometer and Cross Hair. One Set of Polarizer and Analyzer. Two (top & bottom) Light Houses.
One 3MP USB2.0 Digital Camera. One 6' (1.8m) USB Cable. One CD with Software, Driver and User's Instructions. We are more than happy to help you find the right product for you or answer questions about an order you've already placed.
But if there is a problem with the item Please contact our support team FIRST! 80% of the time, the problem can be resolved within a few messages. Once received, most claims are processed within 1-2 weeks, stock permitting.
Since 1998, America's doctors, researchers, educators, forensic scientists, and electronic designers have trusted AmScope to deliver high quality microscope solutions for their precision educational and research needs. Our products are manufactured under strict ISO 9001 quality control standards, and are made by the same technicians that make much more expensive Zeiss, Leica, Nikon, and Olympus.
By designing, manufacturing, and distributing our own AmScope brand microscopes and accessories, we keep products affordable while maintaining quality precision. With over 500 models in stock, we are confident that we can meet your microscope needs whether you're a hobbyist, an educator, or an advanced research institution. Our goal is to assist great minds in reaching that "Eureka" moment. Our promise: When you use AmScope, you'll see things bigger!
The item "AmScope 50X-2000X Darkfield Polarizing Metallurgical Microscope + 3MP Digital Ca" is in sale since Wednesday, February 6, 2019. This item is in the category "Business & Industrial\Healthcare, Lab & Dental\Medical & Lab Equipment, Devices\Microscopes".
The seller is "amscope" and is located in Irvine, California. This item can be shipped worldwide.
Brand: AmScope
Microscope Type: Compound Microscope
MPN: ME520TB-3MT
Intended Use/Discipline: Silicon Wafer
Viewer: Trinocular
Magnification Range: 40X to 2000X
Eyepiece(s): 10X,20X
Eyepiece Mounting Size: 30mm
Objectives: 5X,10X,20X,50X,100X
Condenser Type: Brightfield,Polarizer,Analyzer
Camera Pixel: 3MP
Light Type: Halogen
Lighting Configuration: Incident & Transmitted
Microscope Structure: Upright
Custom Bundle: Yes
Bundle Description: Microscope, Camera
Warranty: 5 Year Warranty