AmScope 40X-2000X Trinocular Lab Compound Microscope + 5MP USB Digital Camera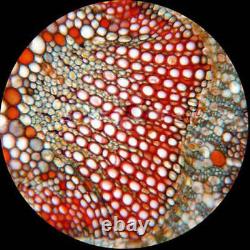 Amscope 40X-2000X Trinocular Biological Compound Microscope + 5MP USB Digital Camera. 40X to 2000X magnification range for studying a range of specimens including hair follicles, cells, and bacteria. 10X and 20X eyepieces provide 8 unique magnification settings. A top choice for veterinarians, clinics, and classrooms, this microscope provides high quality optics and precision mechanics. Professional features include a Siedentopf trinocular head for precise adjustments, a 2-layer mechanical stage with low-position controls, and coaxial coarse and fine focus for ergonomics and an efficient workflow. Halogen lighting reduces eye-strain for prolonged use.
The trinocular photo port allows you to easily mount a camera. The T490 is compatible with our CX series C-mount photo ports with built-in reduction.
Monitor and capture photos and videos with the included 5MP USB 2.0 camera. Professional microscopy software for Windows, Mac, and Linux provide tools for image processing, measuring, and more. The T490 is our hardest-working, go-to microscope. The top choice for veterinarians, breeders, and clinics, this instrument has proven reliability and optical quality.
It boasts features such as a compensation-free Siedentopf head, smooth stage translation, and a precision focus system with easy tension-adjustment and vertical-lock. The simul-focal trinocular head provides a dedicated photo port which can be used simultaneously with both eyepieces. The 490 series offers a wide range of optional accessories to expand the functionality.
The magnification range can be expanded with a large selection of objective and ocular lenses. Specialized condensers are available for dark-field and phase-contrast applications, ideal for bloodwork, fluid-analysis, and pathology. To customize the microscope to your viewing comfort, the eyepiece spacing can be easily adjusted using a precision Siedentopf mechanism.
A diopter is available on the both ocular tubes to compensate for asymmetry, and the ocular tubes are angled at 30° to comfortably accommodate a seated position without neck strain. The 23mm photo port is height-adjustable to match focus with the eyepieces, and can be replaced with an optional CX series C-mount port which have built-in reduction, and can directly interface with C-mount cameras. The objective turret provides instant access to 4 magnification levels to easily focus in on minute details from 40X to 1000X.
Additional 20X eyepieces expand the maximum magnification to 2000X with 8 unique levels. This covers magnifications needed for studying hair follicles, cells, and bacteria.
These high-quality lenses are achromatically corrected to improve resolution and color accuracy. The 2-layer mechanical stage provides smooth and precise movement for examination of specimen slides. The stage's low-position controls are conveniently placed near the coaxial focus knobs for a streamlined workflow. Examining specimen slides is intuitive and precise for users at any skill level.
Halogen sub-stage lighting provides bright illumination with excellent color rendering. The warm lighting is better suited for prolonged use, causing less eyestrain than LED and fluorescent lighting.
The Abbe light condenser has a high 1.25 numerical aperture for oil-immersion, and an iris diaphragm to optimize contrast and depth-of-field. The condenser holder uses rack-and-pinion movement for precise height adjustment. Monitor and capture photos and videos with the included 5.0MP USB2.0 camera. The C-mount camera is specially designed for use with microscopes, allowing you to watch live images, and to record photos or videos on your computer. This ability to view microscopic images on your computer reduces eye-strain, and allows groups of people to view images at the same time.
A 0.5X reduction lens is included to capture more of the microscope's field-of-view. Our professional software for Windows provides a wide assortment of capture and photo-editing functions including color correction, time-lapse capture, image stitching, and a full complement of measuring tools.
A lite version of our software is available for Mac and Linux with essential functionality for capturing photos and videos. Trinocular, 30° incline, 360° rotatable. Height-adjustable 23mm tube, CX series, simul-focal, simul-focal. Coaxial coarse and fine focus, upper limit-stop, tension control. NA1.25 Abbe condenser with iris diaphragm, 32mm filter holder. 2.2µm x 2.2µm. 5.7mm x 4.28mm. Capture Resolution and Maximum Framerate.
Windows (32/64 bit) XP/Vista/7/8/10, Mac OS 10.8+, Linux kernel 3.13+. Intel Core2 2.8GHz or comparable processor, 4GB RAM. Captures still images and video.
Measurement tools, including lines, arcs, polygons. Four objective lenses: 4X, 10X, 40X, 100X. One power cord (US and Canada standard). Three color filters (blue, green, yellow).
One sample bottle of immersion oil. One 0.5X reduction lens. One USB Type B to USB type A cable. This item is in the category "Business, Office & Industrial\Healthcare, Lab & Dental\Medical & Lab Equipment, Devices\Microscopes". The seller is "amscope" and is located in this country: GB.
This item can be shipped to all countries in Europe.
Microscope Type: Compound Microscope
Custom Bundle: Yes
Magnification Range: 40X-2000X
Lighting Configuration: Transmitted (Bottom)
Eyepiece(s): 10X,20X
Eyepiece Mounting Size: 23mm
Objectives: 4X,10X,40X,100X
Light Type: Halogen
Excluded Territories: Canary and Balearic Islands
Microscope Structure: Upright
MPN: T490B-5M
Viewer: Trinocular, USB/Camera Output
SKU: T490B-5M
Camera Pixel: 5MP
Objective Mounting Size: 20mm
Condenser Type: Brightfield
Brand: AmScope
Intended Use/Discipline: Biological Laboratory, Dental Laboratory
Bundle Description: Microscope + 5MP Camera
EAN: 840979105432