AmScope 40X-1000X Long Distance Plan Optics Inverted Microscope + 8MP Camera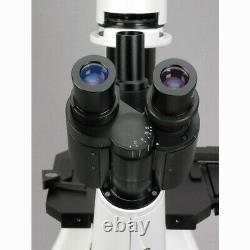 40X-1000X long working distance Plan optical inverted microscope offers crisp clear sharp images. Super widefield optics provide seven brightfield and phase contrast magnification settings.
Inverted frame structure with coarse & fine focusing and powerful 30W intensity variable halogen illumination. Large mechanical stage allows you to view directly specimen in culture flasks, Petri dishes or other containers.
8MP digital camera with advanced editing & measuring software for Windows XP/Vista/7/8/10. This is a brand new professional grade trinocular biological inverted microscope with 8MP USB2.0 digital camera. With super widefield long working distance Plan optics, it is designed for the applications involving in large vessels or samples in biology, microbiology, histology immunology and iatrology, etc.
Allowing you to observe specimen in culture flasks, Petri dishes or other containers, it comes with long working distance Plan objectives, high quality phase contrast objectives, super widefield eyepieces, 45° inclined trinocular head, offering 40X, 100X, 200X, 250X, 400X, 500X 1000X magnification settings and phase contrast microscopy features. With a long working distance condenser and high-contrast phase contrast objectives, it provides high quality clear microscopy images of the cells in large container or vessels. The digital camera captures still images and video, and allows you to view a live stream on your PC.
With software available for Windows, Mac, and Linux, it's a multi-platform imaging solution. The included Windows software offers image-development and measurement tools, as well as advanced compositing features such as image-stitching and extended-depth-of-focus. Independent preview and capture resolutions allow you to view high-speed video while capturing high-definition images. For Mac and Linux, there is a lite version with limited processing features. This inverted microscopy system is ideal for observing living cells in micro research laboratories.
It is perfect model for universities, medical offices, epidemic prevention department and farming stock raising labs, etc. An Affordable professional-grade tissue culture inverted microscope!
Perfect for clinics, vets, doctors and researchers to view living biological tissue cultures and examine specimens in liquid. Seven magnification settings, 40X, 100X, 200X, 250X, 400X, 500X 1000X. Large working distance bright field and phase contrast Plan objectives. Two pairs of extreme widefield high-eyepoint eyepieces. Fully coated optical system with high resolution.
Upright photo port for photographic/video capability. Extra large 3-D double layer mechanical stage with stain resistant finish.
Low position coaxial stage movement control knobs. Coaxial coarse fine focusing with tension control. Built-in 30 Watt halogen illumination system with variable brightness. Top light house with filters.
Rugged cast alloy body frame with stain resistant enamel finish. Manufactured Under ISO 9001 Quality Control Standard. Head: 45° Inclined Compensation Free Trinocular Head. Eyepiece: WH10X/20mm and WH25X extreme widefield. Objective: long working distance Plan (LWDPL), 4X/0.1 W.
25mm, 10X/0.25 Phase Contrast W. 11mm, LWDPL20X, 20X/0.4 Phase Contrast W.
Interpupillary Distance: 2"-3" (50mm-75mm). Mechanical Stage: two-layer; size: 9.53"x6.77" (242x172mm); traveling range: 4.53"x2.59" (115x75mm). Central Stage: 4.33 (110mm) in diameter. Condenser: NA 0.3 Abbe with iris diaphragm, working distance: 3 (75mm). Focus: coaxial coarse fine focusing system with tension control; fine focusing scale value 0.000079 (0.002mm).
Phase Contrast Sliding Plate: center of phase contrast ring plate adjustable. Filter: blue, green, yellow and froster glass.
Sensor Size: 5.45x4.09. Compatibility: Windows (32/64 bit) XP/Vista/7/8/10, Mac OSX, Linux. OS Requirements: Windows (32/64 bit) XP/Vista/7/8/10, Mac OS 10.8+, Linux kernel 3.13+. Hardware Requirements: Intel Core2 2.8GHz or comparable processor, 2GB RAM, USB2.0 port. One Inverted Microscope Body Frame with Illumination. Four Long Working Distance Plan Objectives, 4X, 10X, 20X 40X. One Pair of PLAN WH10X Eyepieces. One Pair of Extreme WH25X Eyepieces. One 8MP USB2.0 Digital Camera with Reduction Lens. One CD with Driver, Software and User's Instructions. We offer 30 days from the date of receipt (verified by tracking information) to request a return on a unit. We appreciate your patience and understand everyone has a critical need for their unit, and do everything we can to ensure that these requests are handled as quickly as possible. Include your order number, reason for return, and if any pictures are required for your claim, please include them also. Follow the issued instructions, and once received, we will process the item in, and check to ensure everything is there.
Processing is done first come, first serve, and can take between 1-4 weeks to process (depending on how many requests we currently have in queue). We thank you for your patience while we work on your request. The item "AmScope 40X-1000X Long Distance Plan Optics Inverted Microscope + 8MP Camera" is in sale since Friday, January 24, 2020. This item is in the category "Business & Industrial\Healthcare, Lab & Dental\Medical & Lab Equipment, Devices\Microscopes". The seller is "amscope" and is located in Irvine, California.
This item can be shipped worldwide.
Brand: AmScope
Model: IN300TC-8M
Microscope Type: Compound Microscope
MPN: IN300TC-8M
Intended Use/Discipline: Anesthesiology
Viewer: Microscopes-Trinocular
Microscope Structure: Inverted
Magnification Range: 40X to 1000X
Eyepiece(s): 10X,25X
Eyepiece Mounting Size: 30mm
Objectives: 4X,10X,20X,40X
Objective Mounting Size: 20mm
Camera Pixel: 8MP
Light Type: Halogen